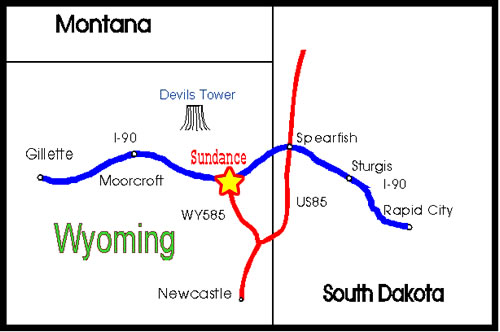 The town of Sundance is in a scenic region of northeast Wyoming. Sundance boasts a quiet, friendly lifestyle coupled with world class outdoor recreation activities and outstanding business potential. Within a 70 mile radius of Sundance you will find a diverse market of over 200,000 people living and working in the Black Hills of Western South Dakota as well as the massive energy deposits located in the Powder River Basin near Gillette, Wyoming.
1) Transportation: Sundance is located on the major northern east-west interstate highway connecting the northern west coast (Oregon and Washington) with the mid-west. U S. Interstate 90 provides transportation access to and from major markets in the northwest and Midwest.
Additionally, Sundance is located 90 minutes from a regional airport in Rapid City, S. D. This airport provides daily direct service to Chicago, Minneapolis, Denver, Dallas and Salt Lake City. From those airport hubs there is access to the world. In addition, Allegiant Airlines provides twice weekly service to both Mesa/Phoenix and Las Vegas.
2) Telecommunication and data capabilities: Sundance is served by a comprehensive fiber optic transport network consisting of Multiple Synchronous Optical Network rings and next generation Ethernet of Dense wave Division Mutiplexing. Sundance is located on a diverse fiber optic ring providing redundant broadband connectivity in northeast Wyoming as well as extending in to the neighboring states of South Dakota and Montana.
3) Energy: Sundance is supplied with abundant, low cost and reliable electricity through the local power company, Powder River Energy. The power is generated less than 80 miles away and is consistently reliable. The generation facility is located at "mine- mouth" which removes any concern about an interruption in fuel supply. The nominal rate for power is $0.06 per KWH.
4) Education: The K -12 education system in Sundance boasts small class sizes allowing for a high level of individual attention which is closely associated with the high graduation rate (greater than 95%) attained by the students. Also available to Sundance residents is an adult education system supported by the Wyoming Community College system. In addition, Black Hills State University located in Spearfish, S. D. is only a 30 minute commute along U S. 1-90 to the east.
5) Low taxes: The citizens of Wyoming pay one of the lowest levels of personal taxes in the United States. There is no income tax and sales taxes in Crook County are only 5%. Property taxes are also very low with a typical $250,000 home in Sundance paying only about $1,700 per year.
6) Outdoor recreation opportunities: Sundance is located adjacent to the Bearlodge District of the Black Hills National Forrest. There is 250 square miles of national forest available for activities as diverse as camping, fishing, hiking and 4-wheeling as well as winter activities such as cross country skiing and snowmobiling. Keyhole Reservoir is located 20 miles to the west where residents take advantage of water sport opportunities, Sand Creek, a blue ribbon trout stream is located 15 miles to the east for those who enjoy stream fishing.